Tying & Un-Tying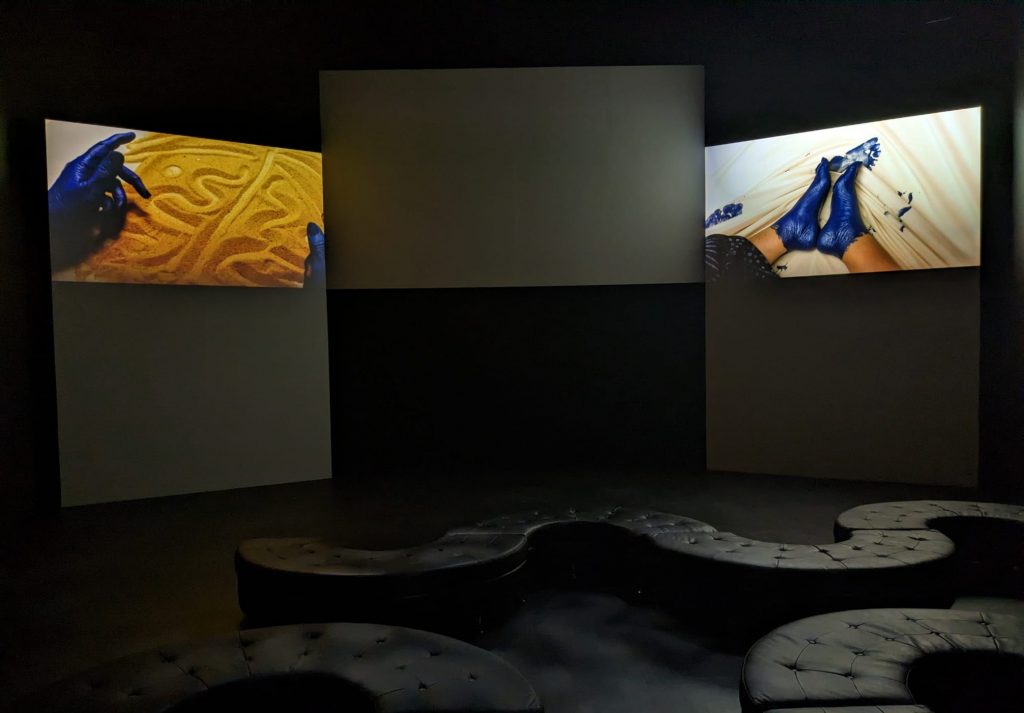 At MoMA February 17-18, 2023
---
Falling Into Language: A Travelogue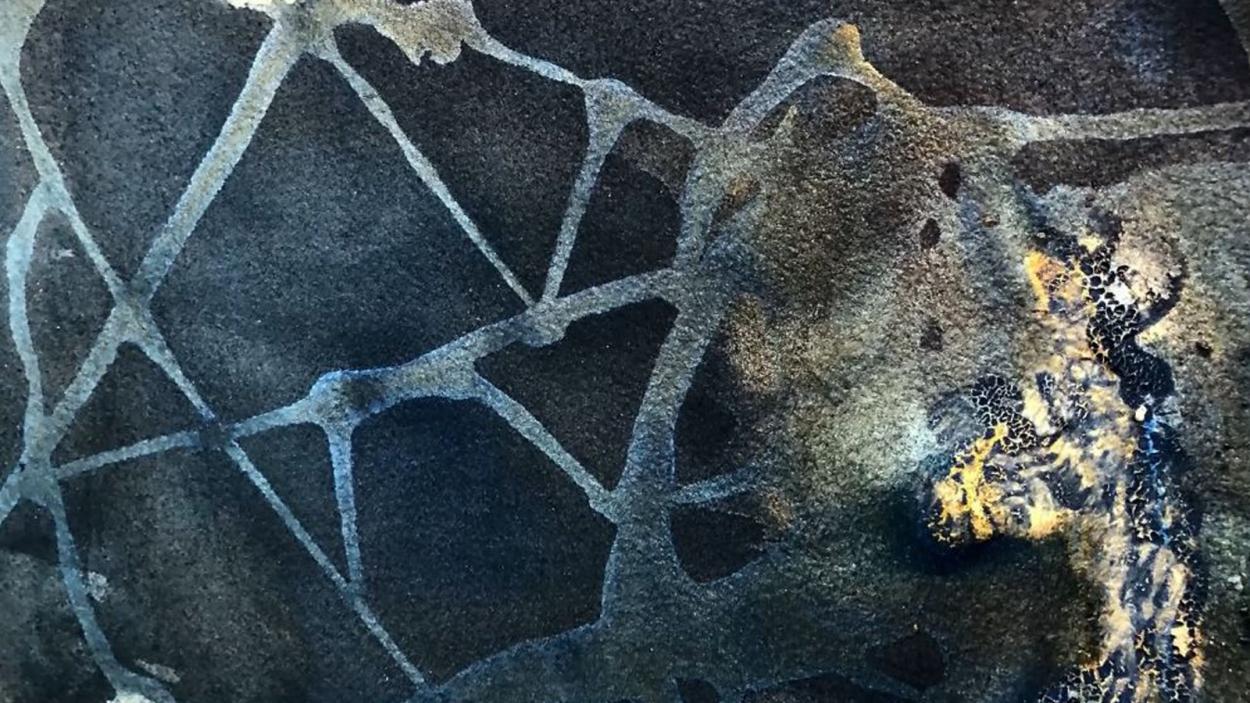 BCA CENTER June 4, through October 9, 2021
Click Here for more information
---
natives, slaves, settlers and visitors – seen and unseen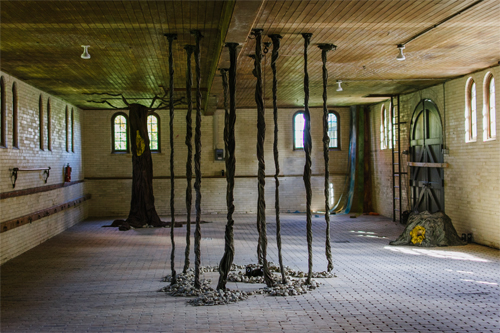 Vermont Land and Local sponsored by Burlington City Arts at Shelburne Farms Coach Barn, Vermont 2015

---
…and the stone people remember everything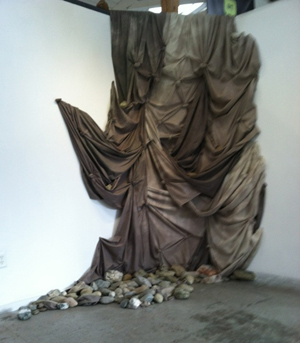 SEABA Gallery Burlington, VT 2014
---
Decansos for the Bees
Latino Arts Center, Milwaukee, Wisconsin 2001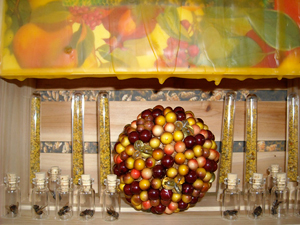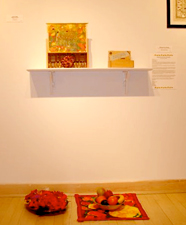 A Descanso is a Spanish word meaning rest or resting place. This word today is used to describe the memorial marker found along most high ways in the US. A Descanso is usually erected at the site of tragic accident in which someone's life was cut short. These Descansos are part of a series of resting places created to commemorate the tragic accidents of the losses of our honeybees.
---
Nature's Lucid Dreaming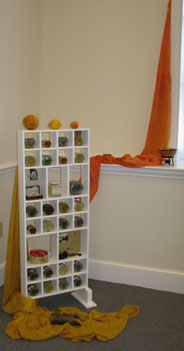 Avery Research Center for African American History and Culture at the College of Charleston, SC 2000
Bees being….
Land and life dreaming
Ancestors singing
Whole remembering
Mixed Media Installation ‐ Handcrafted wooden cabinet, plant dyed silk, beeswax, honey, dried forage plants, bee bodies (from winter hive attrition), queen bee bodies, handmade flax paper with bee bodies, family photographs, recorded hive sounds and other objects of remembering.
My immense gratitude to the beekeepers and bee lovers who contributed from their hives and their land to this installation and are part of the hive of remembering.
---
trail of hope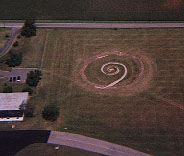 "As you enter this trail of hope give your problems to the earth, rocks and shells. As you reach the center empty your heart so that it may be filled at the spring of hope. As you leave let your hopes and dreams for the future grow and be nurtured by mother earth. Hope is the beginning of change and change is now."
-A collaboration of Kaylynn Sullivan TwoTrees, Miami University Women's Center and People of the Ohio River Valley. Sponsored by Lila Wallace-Reader's Digest International Artists Program. 1994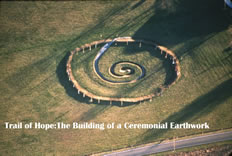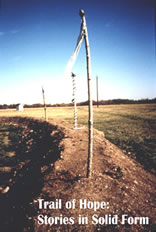 ---
wolfgirl asleep in harlem/awake in the desert
– Miami University TV, Oxford, Ohio 1992
"TwoTrees performance has been lastingly etched in my mind. Her voice and movement had an organic integrity with the material which I have never seen in any other performer."
-Karl Schilling, Miami University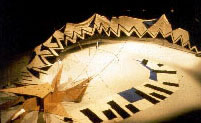 "I was lying in a shallow stream and I had on a dress that was living. But I wasn't afraid. Then it filled up with a figure…the figure of a girl raised by wolves, like a picture in an old National Geographic. Her hair was matted and her skin was caked with mud. They came and took her away. They washed her hair, bathed her, soothed her and laid her down in the stream beside me. She looked so peaceful lying with her eyes closed. But every time she opened her eyes she tried to attack me.".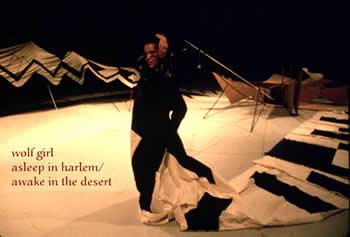 ---
leave no footprints
installation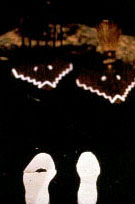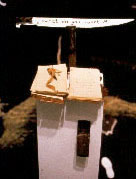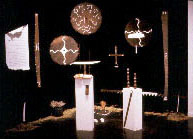 The Decade Show, New Museum of Contemporary Art, New York City, 1990
---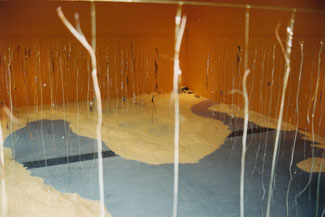 haze
-Maureen Lander, Toi Te Rito Mahi and Kaylynn Sullivan TwoTrees, Auckland City Gallery, New Zealand 2000
"…the place where things are and aren't at the same moment. In the haze, things are there and they aren't there. In the shimmer, things change and the invisible becomes visible and the visible becomes invisible."
---